Additional services offered by
The ClockMaker at Gwathmey include the following:
Case repair including reattaching of loose parts, custom reproduction of missing parts, polishing and refinishing.
Service calls to your home.
Pick up and delivery of repairs and restoration of large clocks.
Music box repair.
Antique barometer repair.
Moving large or delicate clocks from one location to another.
Restoration of both painted and brass dials.

This white painted dial from a Benjamin Willard (American, 1743-1803) longcase clock had a badly deteriorated lunar dial, and the graphics on the main dial were nearly illegible. Careful retouching preserved its antique value as well as its appearance.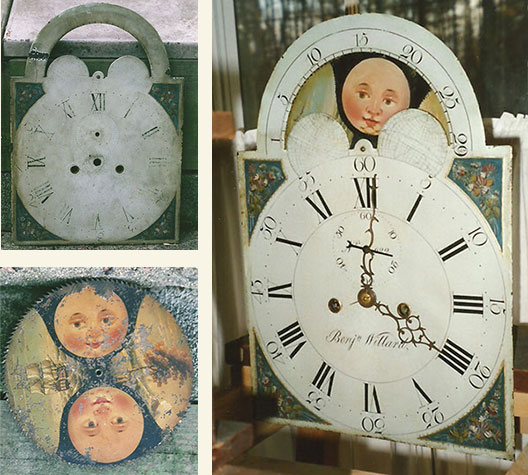 The improvement in appearance and legibility of the brass-and-silvered brass dial is remarkable.